The 3X3 Quest Tour will feature eight stops in 2021, with Christchurch being the fifth one.
It's free to enter and play, and anyone is invited to come along and watch the action. The event is open to under 15, under 17, under 19, and Open age-groups in both men's and women's categories.
A friendly and fun atmosphere with great music and hoops in the sun – fingers crossed for good weather, but we have indoor back-up options if we need them on the day.
Mai FM will be supporting the event with great sounds and the on-site Mai FM street team. Also Sal's Authentic New York Pizza are continuing to support us again. Part of the prizes will include a $50 Sal's Pizza voucher to the winner of the Slam Dunk competition.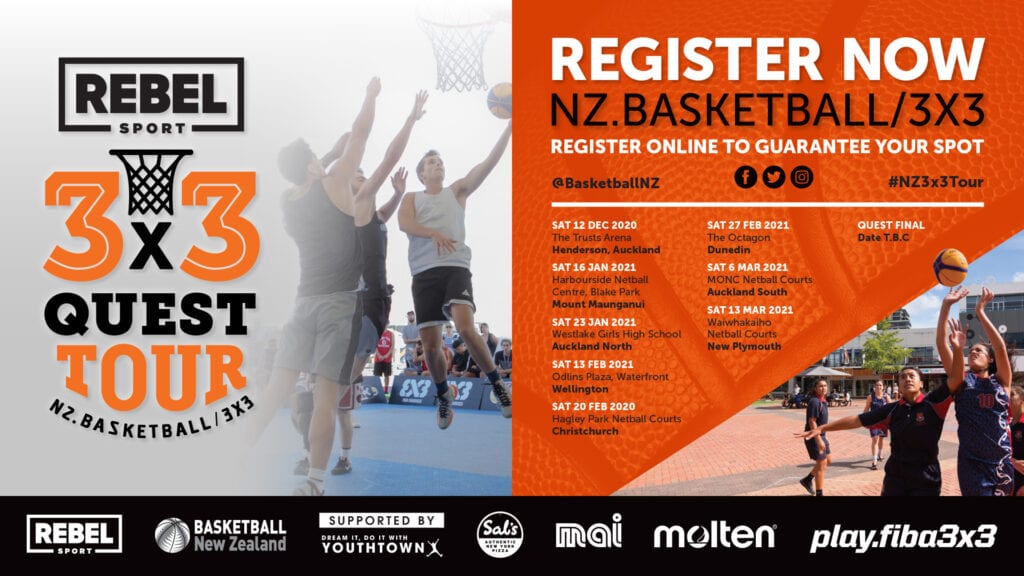 The Tour once again has FIBA's official 'Quest' status, which means that the winner of the Open Men's grade at each event will compete at the World Tour Qualifier Final, where there is a big prize on the line.
Whichever team wins the last open men's event will win an all-expenses paid trip to compete at the World Tour Masters. It's an amazing prize and the players who have travelled to this in previous years have absolutely loved it. They find themselves playing in an elite 3×3 environment, facing up against the pros. They'll be competing against some of the world's best talent – it's not easy with such tough competition, but the experience is incredible.
Given last season's demand, we are encouraging players to enter their teams now and ensure they are registered on play.fiba3x3.com.
On play.fiba3x3.com, players can enter events, track their results and compare their ranking to their friend's and other 3×3 players internationally. It's essential that all players have an official play.fiba3x3.com profile when they play in the Tour. Creating a profile is easy and only takes about three minutes. Once you've created a play.fiba3x3.com account, respond to the confirmation email, register for an event, and you're ready to play.
More info:
• More details on the tour at www.nz.basketball/3X3
• Sign up for the tour via play.fiba3x3.com
• Follow the event on Basketball New Zealand's Social media accounts: @BasketballNZ on Facebook, Instagram, Twitter
To register directly to the event please click here