CBA's Head of Pathways and Community Development, Benjamin Constable works with BBNZ's Community Lead Lori McDaniel to provide development opportunities for coaches and linking teams and clubs with coaches looking for new challenges.
We highly encourage all new and experienced coaches to attend the upcoming Coaches Connection Forum to up-skill and connect with all coaches in the community.
Please don't hesitate to contact Ben or Lori to have your details added to our coaches database, to ensure that you are contacted when a clinic or other development opportunity that may interest you is coming up.
You can find helpful coaching documents and website links by clicking here.
Courses Available:
Introduction to Basketball Coaching

(available now online)
Outline
The Introduction to Coaching Course is delivered via an online platform facilitated by Basketball New Zealand and Sport New Zealand. It can be completed in your own time and will cover the following topics:
Module 1
An Introduction to Good Sports
Module 2
Module 3
To sign up for these online modules
click on the link below
create a login
then "Search Learnings"
select- CBA Region Basketball New Zealand: Aktive Good Sports
Click here to register for this online module: http://www.sporttutor.nz/bbnz
Supplementary Documents
FIBA Introduction to Coaching Manual
FIBA mini ball coaching manual 
Welcome to Coaching in Canterbury
Intermediate/Kiwi Hoops Coaching Course (available soon)
Online Modules
Thriving Under Fire and Safety Net
Pre requisite- Good Sport online modules
90 minutes in class                 
Philosophy
Practice planning
Coaching styles
Age and stage break down (Skill matrix)
LTAD, what it is and why it's important
90 minutes on Court               
Observing appropriate language, movement skills, and drills
Basketball Decision Training
Coaching your peers through drills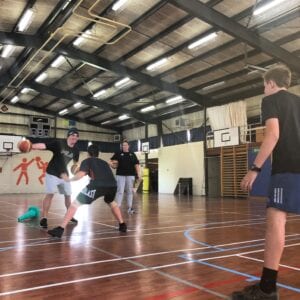 Online Miniball/Junior Basketball  Manual:
https://wabc.fiba.com/manual/mini-basketball/
Prerequisite:
Good Sports
Safety Net
Thriving Under Fire
Kiwi Hoops*
Online
FIBA Content
Break Down of Game film*
Classroom Session 2x 90minute sessions/1x 3 hours
Yearly Training Plans and Organisational Sheets
SOP (National, Regional, Personal)
Philosophy
Providing Feedback
Program Management
Game Management- disruptive defensive tactics, use of time outs and subbing
Modified Games
Skill Matrix (age and stage- concepts)
On Court Practical 90 minutes
Deliver a 20 min session on a pre-assigned FIBA topic using provided athletes or bring your team** TBD.
Practice Observation               
90 minutes of observations completed by a BBNZ coach development officer.
Secondary School Student Coaches Course (available now)
This program is designed to aid our student coaches in their development by providing a mentor and trainer to facilitate basketball knowledge and be available as a resource. The program will be delivered in school and includes the "Good Sports" online coaching modules.
Session 1 Philosophy and Coaching your Peers
Session 2 Practice Planning
Session 3 Game Coaching and Management
Observation of a game or practice
You can get started on this course by signing up for the online modules
click on the link below
create a login
then "Search Learnings"
select- CBA Region Basketball New Zealand: Aktive Good Sports
Contact Lori McDaniel for more details at Lori@canterbury.basketball or click this link to register your interest in upcoming courses.