The Canterbury Basketball Association provides referee training and support to clubs and schools.
Affiliated clubs can simply and easily request a date for CBA to run referee training through this form.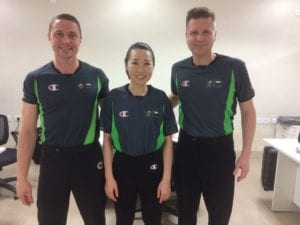 This service is free as it falls under the club association fee to CBA. We train referees for almost all levels, from brand new miniball (Year Three and Four) players, right up to our more senior association members.
Schools and individuals can contact their local club, to register and train as a referee.
Canterbury is home of the strongest communities of referees in the country, with our officials regularly chosen to take the finals at BBNZ National Tournaments.
We recognise how important it is to continually help these volunteers up-skill themselves by regularly offering both formal and informal development opportunities, as well as mentoring.
As a result, we have developed a four year referee development plan to recruit, retain and develop referees.
Within this plan, you will find comprehensive information on how to begin refereeing and programme along the pathway.
How do I start refereeing?
2. Review these resources:
CBA Junior Basketball Referee Handbook and The Kiwi Hoops Referee Manual are the guides we use for new referees beginning in primary school competitions.
3. Referee a game at your local club's primary school competition. You will be shadowed and mentored by an experienced referee.
How do I progress as a referee?
Once you are comfortable at primary school competitions, you can follow the pathway through club competitions and representative tournaments; through to professional and FIBA ranks.
You can find this pathway on page 3 of the Referee Development Plan.
CBA Club Referee Draws
If you are looking for referee appointment draws, they are also posted on the CBA referees | Facebook.
More Information?
Please contact Richard@canterbury.basketball if you would like more information regarding referee development.
A dedicated Canterbury Referees Facebook Page has been set up. Follow it to keep up to date with information, questions, and any videos relating to refereeing.