2023 Major Referee Awards After hosting the Referee Prizegiving recently, Canterbury Basketball would like to announce the winners of the Major Referee Awards for the 2023 season. Most Improved Junior Referee: Hunter Lethlean Hunter refereed 38 games across the CBA…
2023 Major Referee Awards
After hosting the Referee Prizegiving recently, Canterbury Basketball would like to announce the winners of the Major Referee Awards for the 2023 season.
Most Improved Junior Referee: Hunter Lethlean
Hunter refereed 38 games across the CBA season, including two finals. He has quietly grown in confidence and shown massive improvement over the course of the season. Capping off his year with the Boys' A final at the recent U13 Southern Regionals, it's our honour to award Hunter Lethlean as the Most Improved Junior Referee
Most Valuable Junior Referee: Brock Harlum (right of picture)
Brock has been an absolute workhorse across this year and has shown amazing maturity on and off the court. He refereed 46 games across the CBA season, including three finals and attended four national tournaments. CBA thanks Brock for his hard work and thoroughly deserves being the Most Valuable Junior Referee for 2023.
Most Improved Senior Referee: Sophie Currie
Sophie refereed 60 games for CBA, one of the highest tallies according to our analysis and also refereed the CBA U17 Boys' final. Sophie attended U17 Nationals, having shown massive improvement across the year, and helped up-and-coming referees from the Selwyn area. She has also been a part of the Referee Collective team this year, congratulations to Sophie Currie.
Most Valuable Senior Referee: Jayden Rosanowski
Jayden had an amazing year refereeing 44 games, including the Lincoln University Thomson Division One Final. He refereed at a number of national tournaments, highlighted by two national finals, and a semi-final at the Secondary School Nationals. Jayden has also been an instrumental part in organizing the Pioneer club to have all players referee a game each throughout the season, and helping to train when possible. He has also served on the Referee Collective. A big congratulations and thanks to Jayden Rosanowski.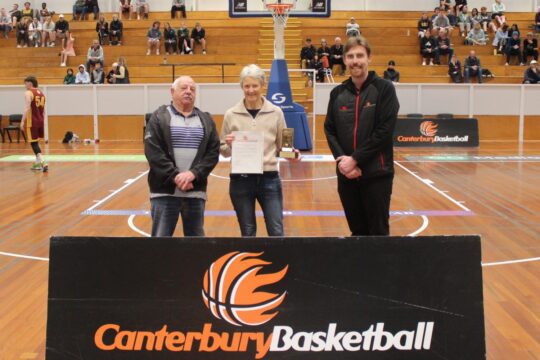 Also, we acknowledged once again the winner of the Bruce Martin Award – Paula Wilkinson
Paula was awarded the Bruce Martin award on Senior Finals Day, for her help on Saturdays across 2023 and supporting player referees from Pioneer. She's been a referee supervisor for our younger grades and played a big part with Jayden Rosanowski & Sandra French in establishing the Whistle Club through Pioneer. A big thanks and congratulations to Paula for her service and for this award once again.
A massive congratulations to all the major referee award winners for the 2023 CBA club season and we look forward to building toward 2024. #weareteamref
other headlines: