The ranking committee for the Thomson Trophy Competition have now released their preseason expectations for teams in Division One
14 teams have been granted entry into the competition.
McDonald's Thomson Trophy Pre-Season Ranking
Christ College
Cashmere
St. Thomas
Middleton Grange
St. Bedes
St. Andrew's College
Shirley Boys' High
Christchurch Boys' High School
Rangiora High
Ashburton College
Rolleston College
Burnside High
Riccarton High
Kaiapoi
The format for Thomson Division One:
The "Top Eight" playing a round robin. Then be put into pools of "Top Four" and "Middle Four". Competition points do not carry over into the pools of four (10 weeks).
While the "Top Eight" are playing the Round Robin the "Bottom Six" teams (of the 14) will play a double round robin (10 weeks).
Playoffs will consist of: Play-In Games: 6th vs 9th; 5th vs 10th.
Quarterfinals (winners of play-in games vs 3rd and 4th).
Semi-Finals (winners of Quarterfinals vs 1st and 2nd). This is likely to be Thursday night before the Grand Final.
Grand Final (Semi-Final winners)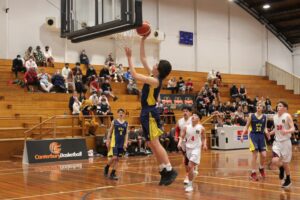 For the Thomson Trophy Division Two, 9 teams will also compete:
Cathedral College
Haeata
Hagley College
Hillmorton High
Hornby High
Lincoln High
Te Aratai College
Papanui High
Rangiora New Life
The Format for Thomson Trophy Division 2 will be a full Round Robin (9 weeks). Each team will have one bye.
Playoffs will consist of:
Quarterfinals (3rd vs 6th, and 4th vs 5th). 8th vs 9th also played this round.
Semi-Finals (winners of Quarterfinals vs 1st and 2nd). 7th place game also played this round.
Grand Final (Semi-Final winners)
other headlines: