Recap on The Canterbury Wildcats up in Auckland at the D-League Tournament.
Firstly we would like to give a thank you to Miles Toyota for the sponsorship this year!
Last month we had a team of 10 go to Auckland to compete in the Development League Tournament, where they did not disappoint. Coming in third place, bringing home a bronze medal!
The team consisted of players from our weekend club competition –
Karereatua Williams and Nicole Gleason from Checkers
Tatiana Kaumoana, Kate Herman, Grace McGirr and Lina Pale from Lincoln University
Sapphire Wairau, Laken Wairau and Hannah Mischewski from Halswell
Gemma Etheredge from North Canterbury
With the efforts of the team landing them a third-place win, there were two players from Canterbury Wildcats that stood out.
Would like to give a huge congratulations to Karereatua Williams and Nicole Gleason for making the tournament team. With Nicole Gleason coming 4th overall in the tournament scoring 19.0 points per game and Karereatua Williams coming 6th in scoring with 15.67 points per game.
Day one consisted of pool play against Etco Auckland Dream Blue and Harbour Breeze. Nicole Gleason and Karereatua Williams coming up big in some of the important games during the tournament.
First game in the tournament against Auckland, Williams came out firing with 21 points and Gleason had 15 in the win. Hannah Mischewski topped the scoring with 26 with Gemma Etheredge providing an extra punch with 16 for well rounded scoring loads on the win over Auckland Blue.
Second game was a little more rocky for our tournament team selections Gleason & Williams with 13 & 17 respectively, with Gemma Etheredge chipping in 11 going down to Harbour 73-66. Wasn't what they wanted but didn't stop them from making it to the Semis.
On day two they had their Prelim Quarter Finals game against Manawatu where they couldn't be stopped, scoring a high of 115 to Manawatu's 42. The Canterbury team was too overwhelming for the team from Manawatu, with Gleason putting up 22 points and Williams 18 points once again atop the scoring with Sapphire Wairau with 12 points.
Getting to the business end of the tournament in the Quarter-final against Southland, the Canterbury team was too good getting the win behind 24 points from Gleason and 21 points from Williams and another handy effort from Mischewski with 15 setting up a South Island derby against Otago in the semi-final.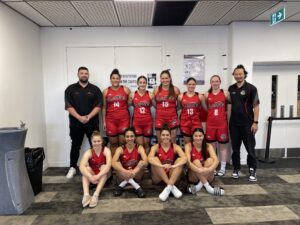 Sadly it was not meant to be for the Wildcats as they went down to Otago in the semi-final 69-80, with repeat offender Nicole Gleason filling up the stat sheet with 21 points, 7 Rebs, 3 Stls and 5 fouls which saw her leave the game with 3 mins left in the 4th, very on brand.
The game also saw Hannah Mischewski with 9 points and 4 rebs, Kate Herman with 9 points and 6 rebs and Gemma Etheredge with 9 points, 10 rebs, 4 steals and 1 block showing the hustle she is renown for in the loss.
Canterbury however did finish the tournament on a high beating the Harbour team that previously defeated them in pool play for 3rd place.
Gleason with 19 points again the top scorer for the team, Kate Herman with 17 points and Lina Pale 14 points coming through with their top scoring games of the tournament to give Canterbury the bronze medal to finish up a strong showing in the D-League.
Good job to all our ladies!
other headlines: