After considerable success in other countries, as well as in Aotearoa, we're bringing this new initiative to Canterbury!
Walking basketball is brand new and coming to Christchurch for the first time this summer
Brought to you by the Canterbury Basketball Association, this modified version of the game is set to welcome people from all abilities and backgrounds to the sport.
Community Manager James Lissaman is looking forward to providing another format of the game for people to play: "We are trying to give people a low impact chance to either return to basketball or start taking it up – it still has a lot of the strategic elements of regular basketball but the athletic requirements are considerably less so it really appeals to a whole range of people."
Six Weekly sessions will start Tuesday 2 March at Cowles Stadium and will be offered for only $7.50 each time, or $45 for all six sessions (finishing on 6 April).
What Is Walking Basketball?
Walking Basketball is a modified version of basketball, which has a simple premise: players can only walk; players do what they can manage; and the sessions are about enjoyment as opposed to competition
What are the Benefits of Playing?
Keeping Active and Having Fun
Meeting New People
Social and Relaxed Sessions – at the end of each session there will be tea, coffee and refreshments
Who is Walking Basketball For?
Former Players
Active Retirees
New Players
Those Returning From Injury
Older Players
Whānau Wanting to Play Together
Rule Changes/Adaptations:
Walking ONLY – if jogging or running, a player is "sin-binned" for one minute. One heel must be on the ground at all times
Hoops are lowered to approximately 2.5m high (equipment dependent)
12-minute running clock halves, with a five minute half-time break
Size six balls are used
Teams are encouraged to have 6-7 players (five players on court at a time) – we're expecting the majority of attendees will come as individuals and be put into a team on the day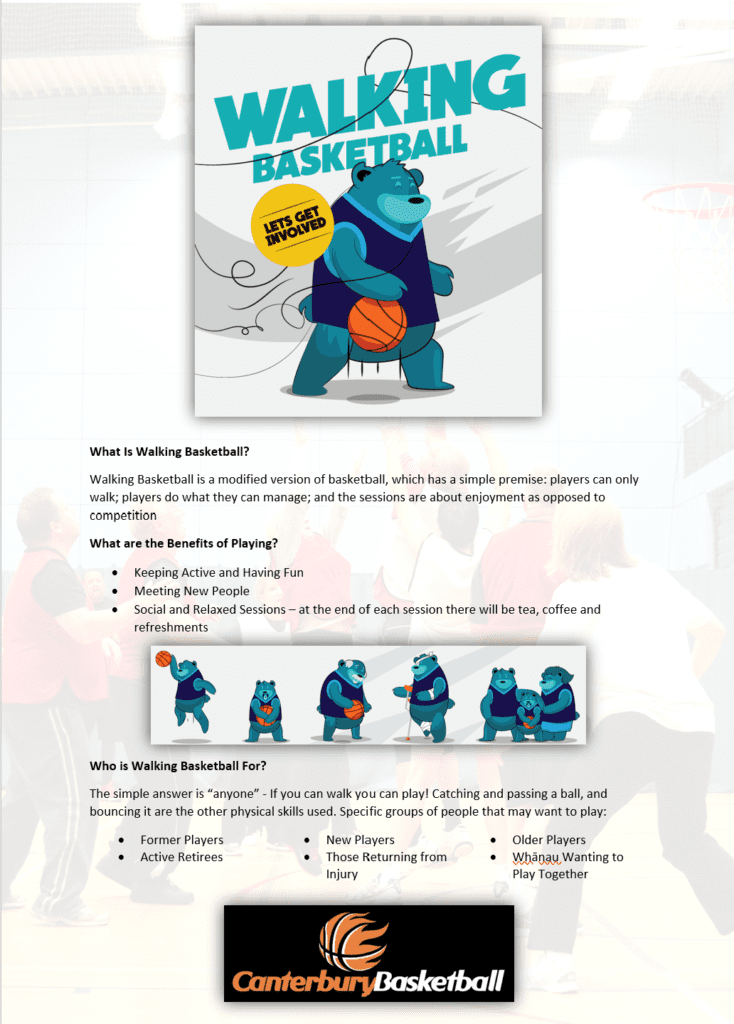 Click here for the Walking Basketball Flyer and Info
If you want to find out more, please email james@canterbury.basketball
other headlines: