This information has been sent out to all our club basketball contacts this week, ahead of weekend tekau mā rua
Reminder that all draws get posted to this page as they are released
Notes:
FAQs – We have received a few questions over the past few weeks, so are posting the regular ones we get in case other teams have the same ones:

What is the Format for my Grade? – these are all online for each competition here 2022-Winter-Club-Formats
Sub Grade Formats? – There is no grand final for BU13, BU15 and BU17 sub-grades, and these competitions will finish up the weekend before the A grade's final (August 13). Remember – the focus on these grades is to give teams as many competitive games as possible
When do we Play? – Our weeks of play document is here 2022-CBA-weeks-of-play
How are Standings Calculated? – We have to manually check any ties in our standings, and calculate them according to the "Classification of Teams" which is detailed on page 78 in the Official FIBA Rules (one addition we have – if a two-team series is tied after applying the FIBA tiebreakers, the team that won the final game between the teams gets the tiebreaker)
If you didn't see the end of the Boys' U17 National Championship – Make sure to check this out (or watch it above)!
We're now down to the final few weeks where all grades compete, here is who is still playimg as we draw the 2022 season to a close:
July 30-31. All grades except BU13 play. BU17A and MD1 matchups to be generated
August 6-7. All Grades play, five grades have playoff matchups to be generated
August 13-14. Final Weekend where all grades play, six grades have playoff matchups to be generated. Final date of games for BU13, BU15, BU17, GU13, GU16 teams who do not qualify for the Grand Final the following Saturday (A grades only). Final game-date for senior teams who do not qualify for playoffs (WU19/MU20 and above)
August 20-21. Grand Final for BU13A, BU15A, BU17A, GU13, GU16 grades, and Middle section of MU23 grade. Semi-Finals for MU20 A/Mid/Dev; MU23 Dev; MD1; WD1/U19
August 24-25. Semi Finals for MP, MU23A and WP grades (Premier on Wednesday, MU23A on Thursday)
August 27. Grand Finals for Premier, U20, U23, MD1, WD1/U19 Grades
Pouākai/Rams Double Headers – both teams play on Saturday July 23 (at Christchurch Arena) and July 30 (at Cowles Stadium). Remember there is a 10% discount code all of our clubs have that you can use when purchasing tickets, for the final two home games for the teams as they look to qualify for their respective playoffs.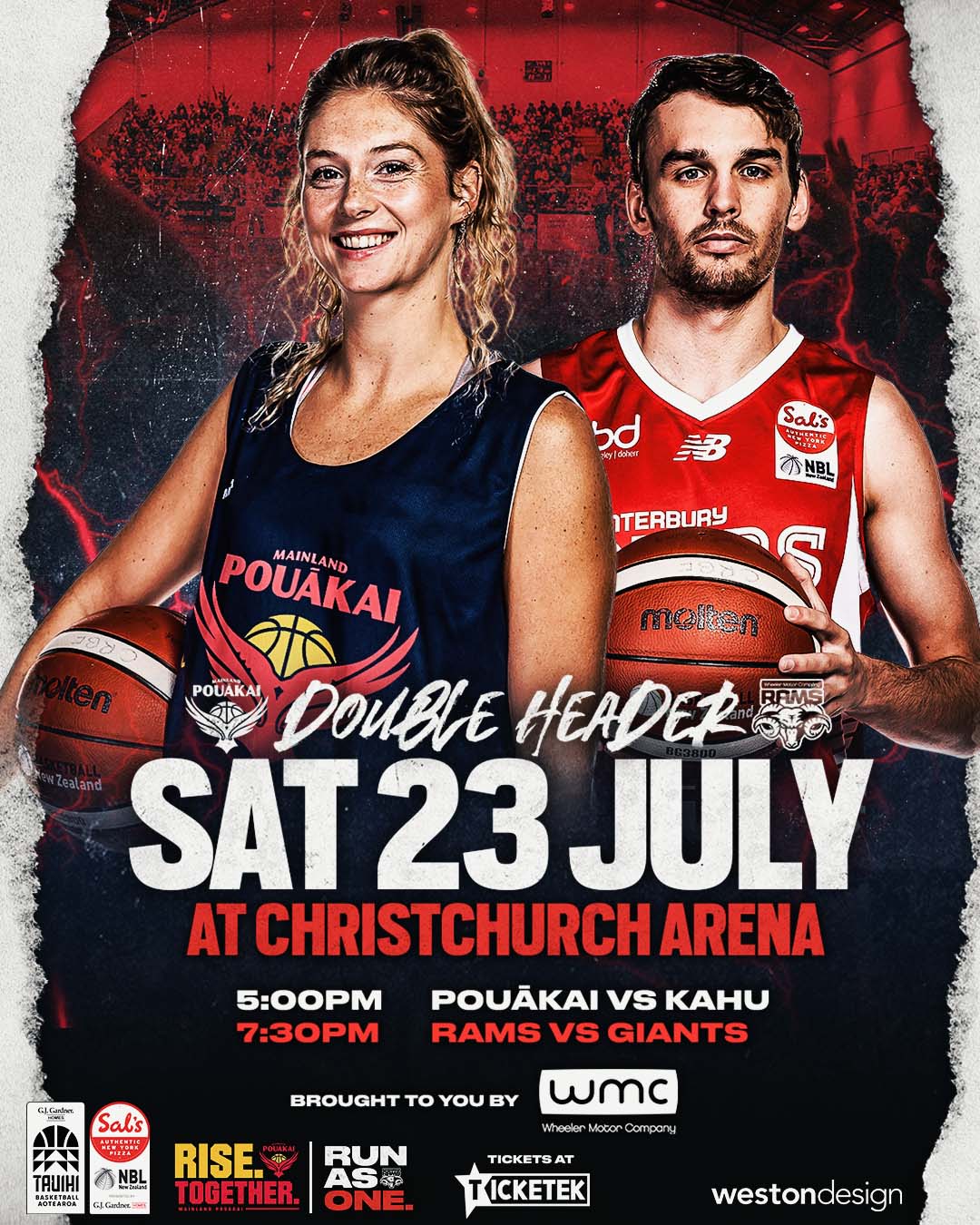 other headlines: