Great news for us – we're still able to play, so make sure you understand your requirements 100% to do this safely!
This information has been sent out to all our club contacts this afternoon (14 August), to make sure all of our members are prepared to play this weekend:
While we play club basketball in Level Two it is imperative that things operate as smoothly as possible, so as to let all of our teams play basketball.
We need all of our teams to clearly communicate with their members what this means for them:
Teams will not be allowed into the venue until they are invited in by the floor controller for their specific venue (this is highly unlikely to be more than 10 minutes before your game tips off, but will depend on emptying the gym beforehand)
Team contact (coach or manager in most instances) to contact the floor controller (text them on the number emailed, and then wait at the designated entrance for your venue) when he/she arrives at the venue to collect their team player list (CBA has pre-printed all of these). This person should arrive at least twenty minutes before their game is scheduled to tip off

Take this list and fill in the other people with the team (to a maximum of twenty in total – including players and coaches) Remember to bring your own pen!
Get your whole party ready to enter as one group when the Floor Controller invites you in through the designated entrance

As soon as the game ends, handshakes are discouraged – give three cheers and grab your gear to leave
Leave by the exit indicated by the Floor Controller. Team meetings to occur outside the venue (if your team is on scorebench for the next round, it is preferable to leave those people assigned on the game in the venue. If you do want them in the team meeting, they can exit the building and then re-enter, but follow your Floor Controller's instructions here)
Awesome work by our schools and their family to follow procedures at level two to play basketball – night has gone really smoothly!

Posted by Canterbury Basketball Association on Wednesday, 12 August 2020
In the relatively few experiences we have had playing basketball under this system, the major part which can cause games to need to be shortened is teams failing to leave the venue in a timely manner (or more than twenty people trying to enter with a team). We need the venues empty before the next group is allowed in, so please make sure the coaches reinforce this message with the team before the game even starts!
If your team is having some parents as spectators, you need to communicate this clearly to the rest of your supporters that they cannot come to the game too (i.e. if you are not specifically invited, you can't come!) I have talked to some clubs and schools that are just telling all their teams they cannot have spectators instead of a roster system.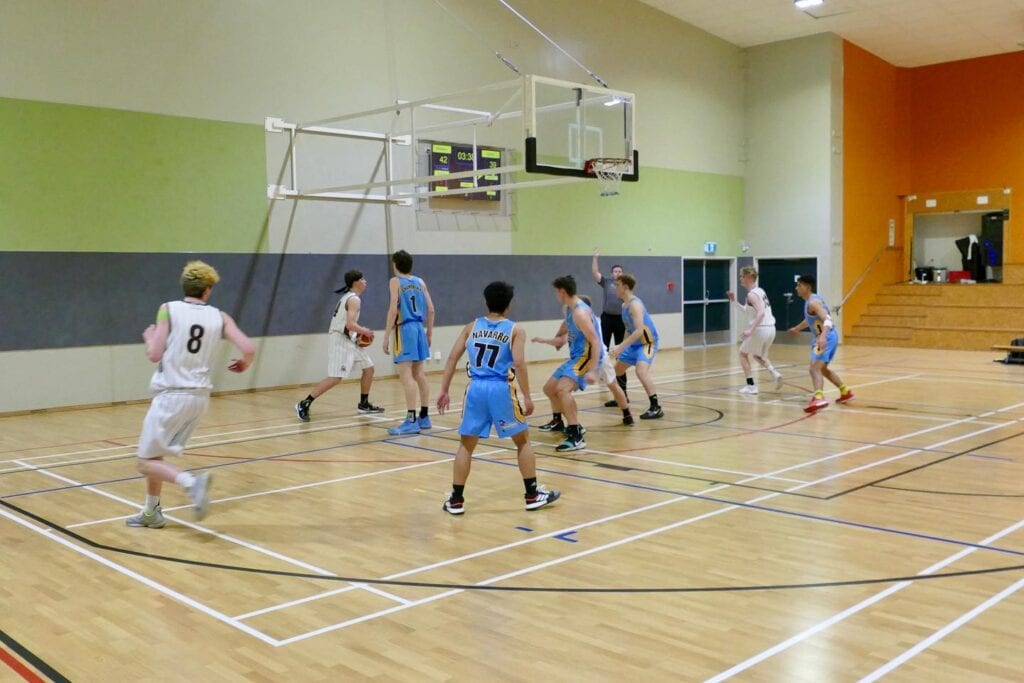 Game times this weekend (August 15 and 16):
Saturdays will stay as scheduled (we'll assess how this goes ). Each team will have at least five minutes to warm up on court
Sunday games at Cowles will change to have the first game tip at 8:45am (see updated draw attached with these times)
All teams should start their warmups in a suitable area outside
Drink Bottles – make sure these are filled up before arriving as most drinking fountains and taps will not be operational (also remind people to try and refrain from needing to use any public restrooms)
Venue Designated Entrance and Exit Locations:
Ara: Enter via South Side (Moorhouse Ave side); Exit via North Side (Ferry Road side)
Cowles: Enter via normal entrance; Exit at end of court one next to locker-rooms
Kaiapoi: Enter via Normal Entrance (North Side); Exit at Southern end of the gymnasium – opposite end from entrance
Celebration Stadium: Enter via Northwest Door closest to Dolamore Place (between court one and two); Exit via Southern end of the gymnasium – opposite end from entrance
Middleton New: Enter via Main entrance door and foyer; Exit via any of the doors that lead directly outside from the court (at far end from entrance)
Middleton Old: Enter via Main entrance door and foyer, not via door closest to changing rooms; Exit via any exits that go directly outside at southern end of courts (opposite end of the court from entrance)
Ōrua Paeroa (Avonside and Shirley two court gym): Enter via Avonside Gymnasium Foyer (northeast side of the building); Exit via on of the exits that go directly outside at southern end of courts (opposite end of the court from entrance). No access to shared gym from this one. If restrooms are needed, use the Avonside ones
Ōrua Paeroa (Shared Gym AGHS/SBHS – with Rock-Climbing wall): Enter via Shirley Gymnasium Foyer (northwest side of the building); Exit via any of the exits leading directly outside on Northern Wall (so as to reduce congestion by either foyer for entering). No access to two court gym from this one. If restrooms are needed, use the Shirley ones
YMCA: Enter via Single door on southwest corner of the YMCA building (far end of court one from the YMCA reception). Teams can line up on path away from the access road, next to Library; Exit via exit doors that lead out to Bishopdale Park, next to Court Two. No hand sanitiser allowed to be used over the wooden stadium floor. Drinking fountain is turned off
Scorebench – if you are on scorebench duty before your game, arrive as usual (at least five minutes before tip time and enter after the teams playing go in)
More detailed information on all our procedures can be seen here: 2020 CBA COVID19 Level Two Procedures
other headlines: