We have some things you can do, and think about, while the basketball season is on hold
Parts of this article attributed to Kelly Curr and Sport NZ
Parents, caregivers, and coaches can't erase the disappointment their children/players feel with nobody having any idea of when basketball games will be safe to restart, but there are ways they can support them through the disappointment.
Over the past fortnight the impact of COVID-19 has hit the sports' world starting with the cancellation of major events and professional competitions through to the postponement and cancellation of youth sport. We were about to start the winter basketball club season ourselves, and are now trying to work out plans for what we realistically will be able to deliver.
And while there are significant challenges and obvious disappointments as a result of the cancellations and postponements, opportunities and new ideas start to emerge – of which basketball has been highly visible.
For example – each week some Hoops Drills are shared on our facebook page
Today our Hoops Session gives you some drills 7-9 year olds can do – next session will be here on Friday!

Posted by Canterbury Basketball Association on Sunday, 29 March 2020
The Gators Club has a #GatorChallenge which shows progressive drills each day
https://www.facebook.com/826519920742256/videos/209430760377926/
The Pioneer Club shares a variety of interesting things – including their trickshot challenge
Pioneer People!! Show us your best trick shot! Check out Nick's latest trick shot today!The more imagitive the better… don't have a basketball hoop? Build one out of cardboard and a milk bottle. Don't have a ball? Make one out of materials around home (just ask your mum or dad first!).

Posted by Pioneer Basketball Club on Monday, 23 March 2020
Other basketball specific things we at the CBA have seen include:
This is by no means exhaustive, but searching the hashtag# JrNBAatHome will help you if you're searching for more specific basketball or #StayHomeMoveMore for a variety of athletic challenges.
We would also encourage basketball players to be in contact their coach and discuss ideas for what they can work on at home. If any coaches need help with ideas for how they can modify particular drills for their players contact our Coach Development Manager Lori McDaniel (lori@canterbury.basketball or 027 327 6043).
For Parents and Caregivers – they are encouraged to set up routines in order to help normalise the situation as much as possible. While there's a break in the sport calendar there's a great opportunity for parents to reintroduce free play. With organised sports on hold, take advantage of this time by encouraging your child to creatively enjoy practicing and playing sports (within the context of lockdown regulations). Let kids play on their own terms. Some ideas for a routine at home:
skill practices or free play in place of team trainings after school
If it allows, play with your child in the sport of their choice in the backyard or driveway, or practice certain skills and drills within the home if possible
Remind your child what has been achieved – shifting the focus away from outcomes and reflecting on the learnings and the journey through the season.
Learning how to process disappointment is a life skill, and communication is key. Verbalising feelings and acknowledging disappointment helps young people work through the range of emotions and provides important support. Initiating an open conversation when there are no distractions and you're alone together can be a helpful way for young people to process their feelings.
Remember to:
Be open to talking about their feelings
Let them open up at their own pace
Listen to them, without adding your own judgement
As a parent/caregiver, if they don't want to talk to you, don't take it personally and let them know that you're there for them if they do want to talk. They might also feel more comfortable talking to someone else about it, so you could suggest they call their coach or a teammate for a chat.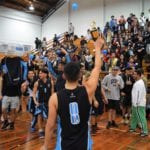 Also, re-examine your own balance with sports – and that of your child's. This is a good time to reflect, talk to your child and think about what they're getting out of the sports they're playing. Is your child having the best experience possible? Have you followed your child's lead and asked what he or she wants?
Youth sport has been and will continue to be a great platform to develop young people through character development. The current challenge we're facing in the world will certainly give us all a great lesson in resilience, determination, and selflessness to name a few.
other headlines: