Tonight's going to have a bunch good basketball being played all around Christchurch, tipping off at 5:40PM
Last weeks game of the week was a nail bitter between St. Bede's and St. Thomas going into overtime, with a St. Bede's win 108 – 104.
Game's of the week this week is going to be the double header being played at St. Andrew's College. With the girls playing Kaiapoi and the boys facing St. Bede's who just came off a big win!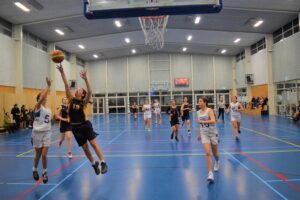 Whelan Division One Games
Christchurch Girls' High hosting Avonside
Rangi Ruru hosting Middleton Gators
St. Margaret's hosting Rangiora
St. Andrew's College hosting Kaiapoi – Phil Burns Cup Game
Whelan Division Two Games 
Burnside hosting Papanui
Hagley hosting Hornby
Ashburton hosting St. Andrew's College
Riccarton hosting Villa Maria
Thomson Division One Games
Burnside hosting Rangiora
Cashmere hosting Christ's College – Dowson Cup Game
Christchurch Boys' hosting Middleton Gators
Ashburton hosting Kaiapoi
Rolleston hosting Riccarton
St. Thomas hosting Shirley
St. Andrew's College hosting St. Bede's
Thomson Division Two Games
Hagley hosting Hornby 
Lincoln hosting Te Aratai
Hillmorton hosting Haeata
Deferred Game
other headlines: