Back with some more High School basketball after the holidays! Got some great games lined up for tonight.
The Whelan game of the week will be St. Andrew's College hosting Avonside at 5:40PM. Thomson game of the week is St. Bede's hosting Cashmere at 7:20PM.
Most Division 2 teams have a bye this week, with only Hagley vs Papanui on the Whelan side and RNLS vs Hornby on the Thomson side.
Whelan Division One
Kaiapoi hosting Middleton
St. Andrew's College hosting Avonside
Whelan Division Two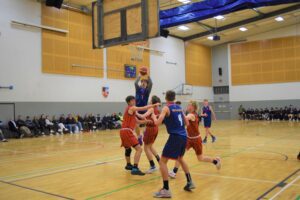 Thomson Division One
Kaiapoi hosting Burnside
Rangiora hosting Riccarton
Shirley hosting Middleton
Rolleston hosting Ashburton
St. Bede's hosting Cashmere
St. Thomas vs Christ's College (being played at Avonside/Shirley at 5:40PM)
St. Andrew's College hosting Christchurch Boys' High
Thomson Division Two
Rangiora New Life hosting Hornby 
Deferred Game
Cashmere vs Christchurch Girls' High
other headlines: