King's Birthday weekend gave us an incredible long weekend of rep basketball.
The U19 Canterbury Women's and Men's teams both had a strong showing at the U19 National tournament last weekend in Rangiora.
The U19 Miles Toyota Wildcats took gold, beating Waikato 74-56 in the final, completing an undefeated run.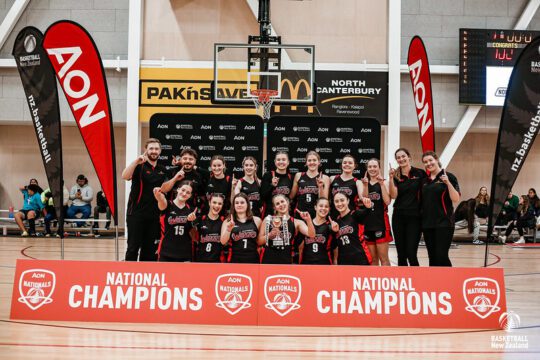 Following a disappointing loss to Harbour in the semi final, the Men bounced back on finals day to take 3rd place, beating Manawatu 110-76.
Lauren Whittaker, Maia Jones, Kerereatua Williams and Tom Harrison, all made the tournament team, with Whittaker receiving MVP honours.
A special thank you to North Canterbury Basketball Association for hosting a well organised tournament with BBNZ.
The 2024 U19 national tournament will also be hosted in Rangiora's Mainpower stadium for the third and final year.
Well done to all players, our team Rosters can be found below:
| | |
| --- | --- |
| Ivy | Brown |
| Karereatua | Williams |
| Kate | Herman |
| Kyla | Lynch-Brown |
| Laura | Jackson |
| Lauren | Whittaker |
| Maddie | Morrow |
| Maia | Jones |
| Phoebe | Duncan |
| Zeta | Schuler |
| | |
| --- | --- |
| Kellie | Tawhiao |
| Brooke | Palmer |
Head Coach: Sam Watkins
Assistant: Cameron Wilson
Manager: Georgia Woollett, Nicole Cutler
| | |
| --- | --- |
| Hugo | Gonzalez garcia |
| Hunter | Adam |
| Jack | Hollingworth |
| James | Leen |
| Louie | Gordon |
| Mitchell | Corkery |
| Phoenix | Sorensen |
| Reuben | Booth |
| Riley | Sa |
| Thomas | Harrison |
| Connor | Radbourne |
Head Coach: Adam Morgan
Assistant Coaches: Kelvin Fisher, Jayden Cameron, Joe Hope-Powell
Manager: Raewyn Britt
other headlines: