The Canterbury Wildcats have two missions this week when they take on last year's finalist's, the Waikato Wizards, in the WBC at Cowles Stadium on Saturday 17 May.
One, make their defence in the transition stick (put more pressure on their opposition coming out of their own half) and two, shut down Tall Ferns shooter Charlisse Leger Walker (should she play). Walker, who is just 17 years of age, is one of the games brightest talents and has already represented New Zealand, earning a silver medal at the Gold Coast Commonwealth Games last year.
'Charlisse is a wonderful player and we need to be on our game to stop her, although she sat out last week with an injury, so she may still be out,' said an optimistic Wildcats' Coach Lori McDaniel. 'And we need to do better on defence this week, especially allowing those long balls that let our opposition easily slip out of their own half,' she went on to say.
Although McDaniel is confident last week's third game against defending champions Auckland is some of the best preparation they could have going into this clash. 'It's always good to go up against the best team early, and Auckland are definitely the team to beat in the league this year. They have a number of Tall Ferns and we stuck with them for most of that match, so we've taken some good lessons from that game and we will be better for them against Waikato.'
The Wildcats aren't without talent of their own though, with Helen Matthews impressing during their first few games. 'Helen's a champ,' McDaniel stated. 'I think she's gained some confidence from last year's FIBA World Championship,' she added. 'She's aware of her abilities and when to use them and when to off load the ball. She's only going to get better too.'
McDaniel also expected their defensive lapses, especially in last weeks third quarter, were as much down to fatigue as they were anything else, and felt as a coach she just needed to manage that a little more. 'We'd had three games in three days and they gradually got harder and harder, while the girls got more tired. So we just need to be mindful of that. I think it'll be different in stand alone games, so we will continue to press those defensive opportunities.'
Russian import Marita Davydova seems to have found her groove within the team as well, her professionalism and love for the game rubbing off on the rest of the Wildcats. The tall forward has played some big minutes for the team and proved her dedication when she headed straight to training following her 50+ hour journey from Spain to get to Christchurch. 'She's great to have around, her professionalism is fantastic and we're loving having her here,' said McDaniel.
The Wildcats may also get a boost this week, with former and current Tall Ferns Shea Crotty and Tessa Boagni confirming that neither of them are great spectators and would dearly love to be out on court in a Wildcats' singlet. So, watch this space, their returns from injury look imminent. Crotty has been battling knee complaints while Boagni recently suffered a bruised foot and has been aided by a moon boot in recent weeks.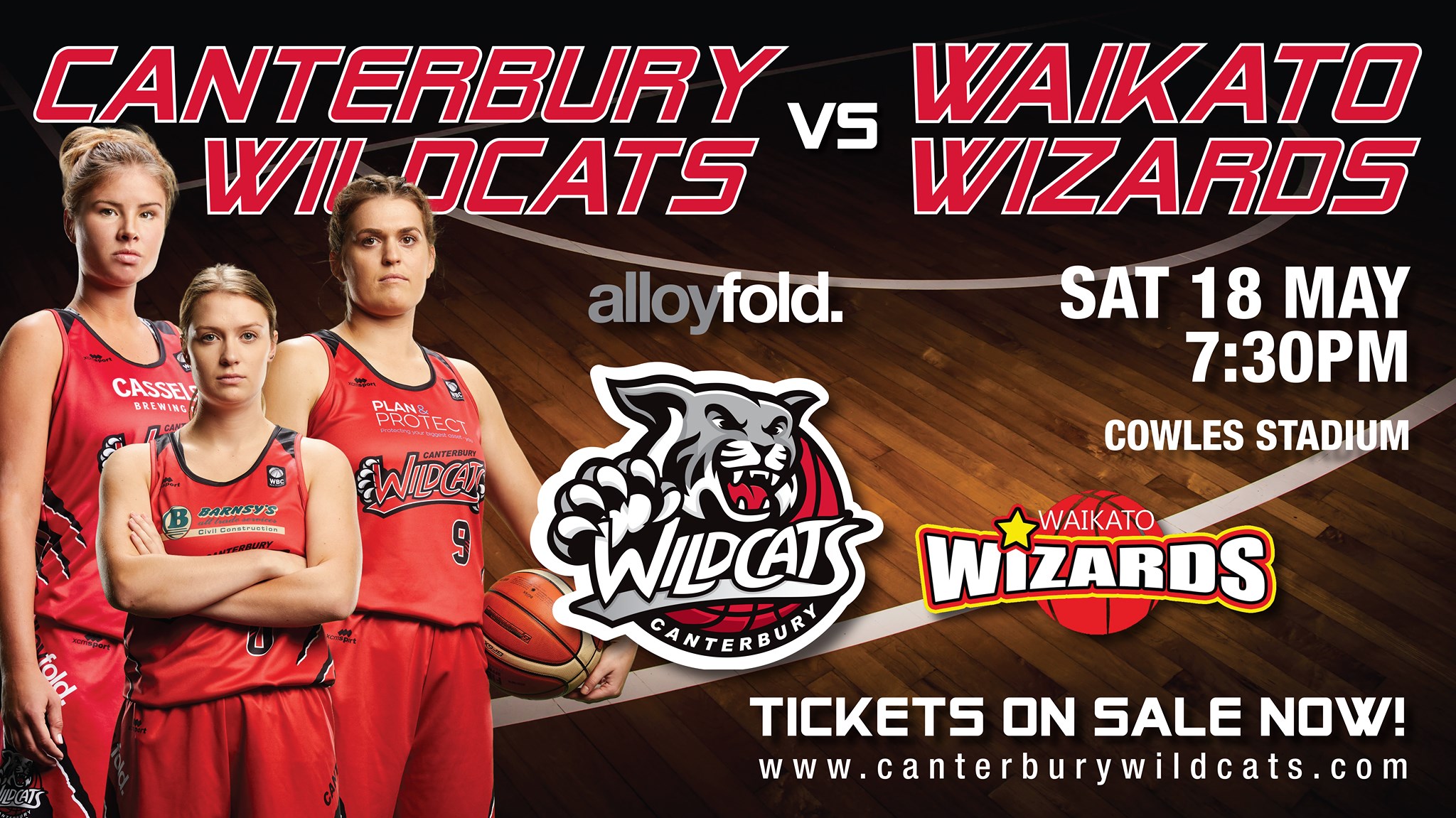 Tickets for the Alloyfold Canterbury Wildcats vs the Waikato Wizards can be purchased here, or at the door for $10 (adult), or $5 (child)
Article courtesy #WeAreCanterbury
Photos courtesy Angela Ruske/BBNZ and Richard Connelly/GamefaceNZ
other headlines: